Porcelain, fur, paraffin wax, silk, resin, glass, bones, fox and rabbit pelt, Tibetan gazelle horns: these are just some of the materials Juz Kitson uses to create her highly tactile, creature-like, sculptural forms. Known for her ability to blend the beautiful and the abject—to delight and rebuke audiences—Kitson talks about how her installation-based works came to be, and how they speak of the big things: life, death, sex and desire.
Tiarney Miekus: Your creations build upon certain elements of craft, inventively using textiles, materials and found objects, combined with your ceramic background—with these two elements working together, I'm interested in how you came to be an artist?
Juz Kitson: It's always been the tactile nature of materiality that I've been drawn to. Originally, I wanted to pursue photography and painting, though naturally got sidetracked and gravitated towards ceramics. It wasn't so much in terms of the traditional notions of the material or the standardised nature of ceramics. In how I saw it, it was the ability to recontextualise a traditional material steeped in history. That has always been a key element for me in terms of wanting to work in a more sculptural, installation-based way. For example, take porcelain, which is a material that has over thousands of years of history, both in Asia and in Europe—I was wanting to master the craft, through particular traditional ways of making, but then taking those techniques and really turning them on their head, turning them upside down, and challenging my own perceived conceptions of material and the traditions of what was expected. That's always been an underlying key motive behind my practice: really wanting to push the material as far as it can go.
TM: Do you come from an artistic family?
JK: Surprisingly, no, I didn't actually. There was certainly a push from them at the beginning to not go to art school and to not pursue a career in the arts, and I think that's so common where there's just not the understanding. It essentially created a burning desire to want to pursue [art making] and not only prove to those around me, but also to myself, that a career in the arts is certainly viable, and that the opportunities both nationally and internationally are pretty phenomenal. They are incredibly supportive now, though.
TM: How does a work of art start for you?
JK: A lot of my work is quite personal in terms of the narrative behind it. The beginning comes from gathering resources, experiences, and connections—human connection, connection to land, and connection to different customs and cultures. I've been an avid traveller and led quite a nomadic life travelling through Southeast Asia and across India, although I'm currently based in my home studio in Australia. I've spent a huge amount of time immersing myself in different customs and cultures, especially in Hindu culture, Buddhism and Taoism. It's through travel and experiencing these different lands that I gather resources, whether they're material objects or reference points, which then form a significant part of a particular installation. Travelling across the world, I have a suitcase full of absurd and exquisite objects that sometimes actually find their way into the work as the original. Often I will make a replica of them, but most importantly, everything is born from an experience and certainly resonates the human condition. I see my practice as a lifestyle, as opposed to switching on and switching off. I'm always 'on'.
TM: How do those travels, objects and experiences get transformed into artworks that speak to things like death, life, sex and desire?
JK: It's certainly a conglomeration. There's heady mixes of both—as you said, sex and the nature of humans and animals, and the energy of that sexual desire of creation. I wouldn't say I'm a feminist artist, but I'm a female artist and I am exploring ideas of womanhood and birth. On the flip side is death—and death is such a motivator for so many creatives and people. That fear of death is something that is often pushing the body to the extreme. In terms of the death aspect of my work, I've wandered through certain parts of the Australian landscape where often I would go out into the bush, collecting roadkill and things like that. You experience— especially after drought—the devastation and brutality of nature. To see a dead, inanimate object is macabre to lot of people, but I've always seen it as something to take this dead and inanimate object and give it new life, give it new history, and coat it in ways where they're fabricated, shiny, delicious, attractive and awe-inspiring—drawing the audience in to brutally rebuke them, in a sense. Bones do have the connotation of death and it's this sort of uneasiness behind the work that I've always been fascinated in.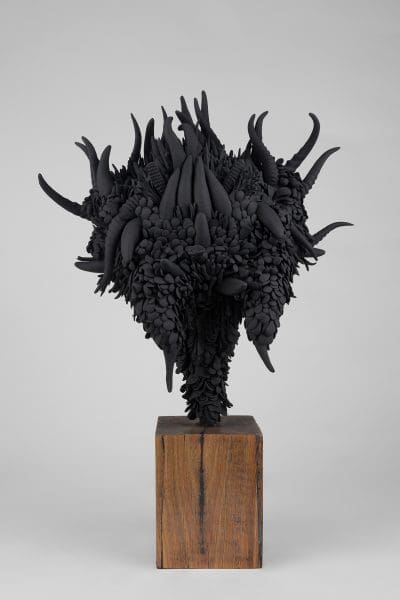 TM: Does that come from anxiety about death?
JK: No, I think it's that to have an appreciation of life there's a sense of being able to understand death and to be okay with it. Through my understanding of different writings, through Buddhism and Hinduism and Taoism and spiritual seeking, I think it's something underlying the human condition. I believe that there is a sense of a fear of death, definitely, but I don't see my work as being too dark or macabre or monstrous. It's rather a celebration of life and the parallels, and everything in between.
TM: The juxtaposition between the beautiful and the grotesque in your work is often commented upon—is that a tension for you, or is there an underlying logic that connects the two?
JK: I'd like to think they're logical, but often they're very absurd. Life is beautiful and disgusting and gross and all of those wonderful things. Again, it's rather a celebration of those ideas where I want to entice the viewer. Rather than it being this spectacle or purely shocking, like so many artists before me, it's wanting to solidify a form that is desirable, whether it's female genitalia or phallic forms or the sort of objects that people can reference—there's a familiarity behind them. In the same sense of the word [familiarity], the works are completely deconstructed. Essentially cast off from both human and animal, they become hybrid forms. It is wanting to have some reference point to draw the audience in, but the works are still ambiguous and open for interpretation. I like the idea of creating objects that have no reference point, either past or future. Can an object purely exist on its own terms? I think that's certainly a motive behind everything I do in the work. Not only in the surprises of the juxtaposition of material on a surface level, it's also in the themes that sort of ooze from them.
TM: What can we expect to see in your latest work?
JK: My latest exhibition, The Future is your Ocean Oyster, reveals a series of freestanding and wall-mounted sculptures, and explores new directions in my practice. It shows the landscapes, inhabitants, identities and cathartic dramas of inner and outer worlds. They're influenced directly by our current moment in time—these chaotic times we're faced with—along with years of ideas [which are] assimilated into material form. The works take on the act of ritual and resurrecting found and imagined objects.
The Future is your Ocean Oyster
Juz Kitson
Jan Murphy Gallery
25 August—12 September
Juz Kitson is represented by Jan Murphy Gallery, Brisbane and GAGPROJECTS, Adelaide.
This article was originally published in the September/October 2020 print edition of Art Guide Australia.