During the 2017 Women's Marches in America – the anti-Trump protests that railed against a 'pussy-grabbing' president – millions of women donned DIY knitted or crocheted pink hats, complete with cat-like ears. Known as the Pussyhat Project, the phenomenon saw a mass gathering of humbly mismatched pink hats bobbing together in social solidarity; an act of craft and protest, a political symbol for the time.
This intimate relationship between craft and social change is essential to the exhibition Craftivism: Dissident Objects and Subversive Forms. Having first shown at Shepparton Art Museum (SAM), the show will travel regional galleries throughout Australia in 2019, spreading craftivism from the public space to the gallery. While Craftivism's central tenet is clear, that craft + activism = craftivism, what's meaningful is the gentle, quietly serious and multi-faceted way this equation is explored.
Co-curated by SAM's Anna Briers and Rebecca Coates, Craftivism features 18 Australian artists who share an affinity for craft-based art with political gestures.
Spanning six rooms in total, the first works largely centred on gender representation. Episodes of Tai Snaith's insightful interview podcast A World of Her Own were displayed, accompanied by Snaith's ceramic work created in homage to the interviews. Nearby hovered Starlie Geikie's exquisite, minimalist textile works that reference the influence of female modernist and craft artists, as well as Karen Black's sculptural work which takes the enlarged shape of a third or fourth-century AD Roman perfume bottle to consider narratives of war and endurance.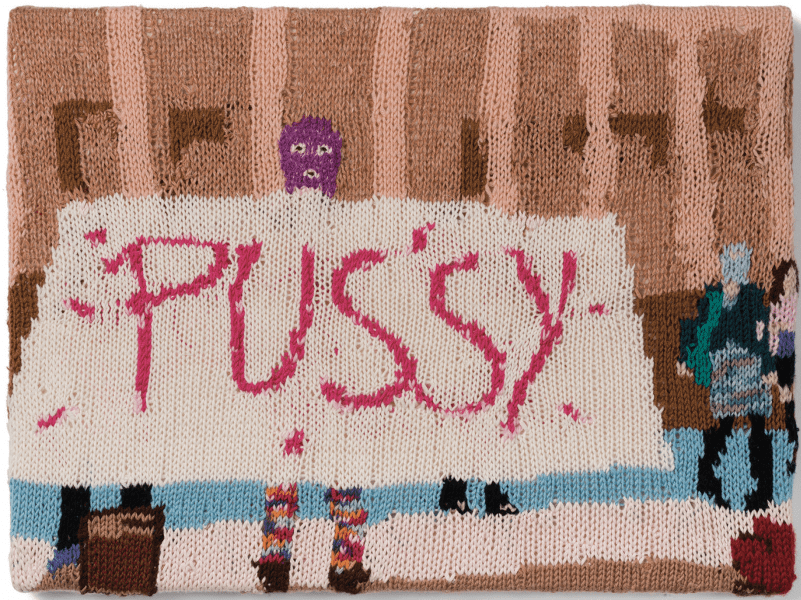 I was most enamoured by Kate Just's series of five hand-knitted images from the ongoing series Feminist Fan. Threaded with thick yarn and maintaining a domestic quality, the works depict moments of global female protest including Pussy Riot in Russia, Guerrilla Girls in New York and the Chinese Feminist Five in China. Playing upon the conservative notion of knitting as a 'feminine past-time', Just becomes a 'feminist fan' by enshrining her protest heroes as hopeful, radical symbols.
Craftivism also included the popular collaged quilts of Paul Yore, who weaves a rainbow-like visual of our hyper-mediated, speed-driven 'now'. Political, corporate and pop symbols are pressed together, koalas cling to trees while various iconographs float by, queer sexual innuendo sits alongside theoretical assertions of the collapse of the delineation between reality and stimulation. Between interrogations into Australian identity and gender construction there is, Yore notes, always time for self-promotion.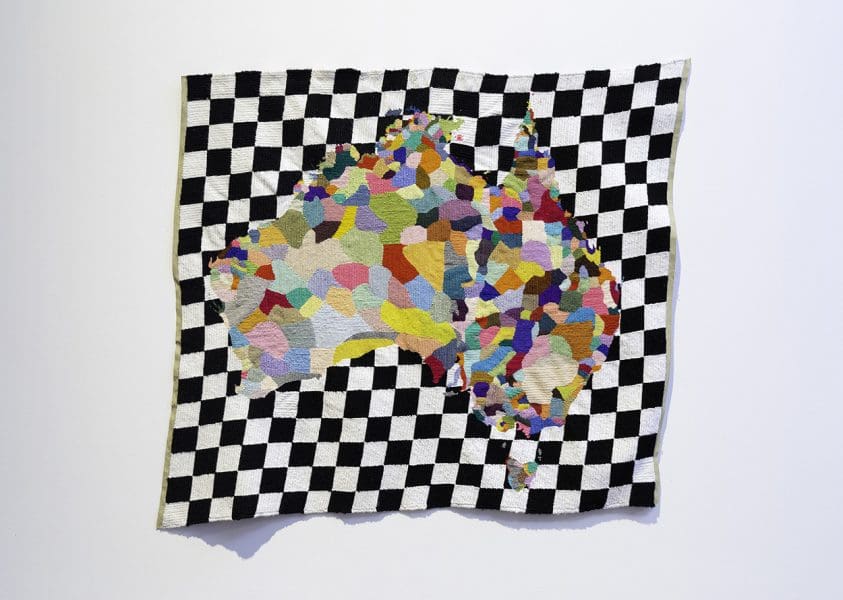 Adjacent to Yore's work stood Ramesh Mario Nithiyendran's figurative ceramic Pewter Dickhead 2 (2015), a non-binary creature who theatrically holds various gender impersonations until its gender becomes unclassifiable – after performing so relentlessly, all that remains is the performance.
As one moved further through Craftivism, what became apparent was the purposefully circuitous and clever course of the show; various social and political preoccupations mingled together, cast in empathy and connection with one another. While Michelle Hamer asks questions surrounding unstable borders through a series of pixelated hand-stitchings, Penny Byrne uses porcelain to think through the current European refugee crisis and growing European nationalism. Then there's Raquelle Ormella with a tapestry referencing recent protests by the wonderfully named collective, Knitting Nannas Against Gas (KNAG). A concern for environmental degradation was also found in the poetic Ghost Net Vessels (2015–18). Created by artists who practice from Erub Arts collective, the pieces, which are crafted from ghost vessels, consider the environmental damage of rogue, non-biodegradable fishing nets.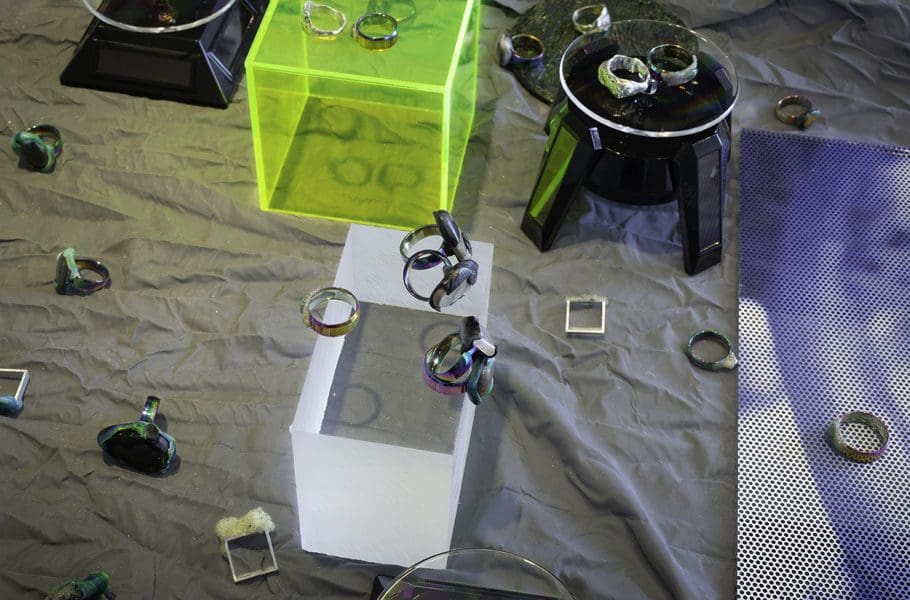 Considering the intersectional politics of the show, many works also gestured towards our capitalist reality, particularly Kate Rohde's baroque-inspired, technicolour installation, as well as banner and jewellery works by Debris Facility, an art collective that plays between corporate enterprise and artist. Yet throughout Craftivism what I found alluring wasn't the works' politics of the artworks, but the formal beauty of the pieces. Here I think of Catherine Bell's Crematorium vessels(2012–13) that were developed from the artist's residency at a hospice, mediating on the most fragile of subjects – mortality. Finally, as with many contemporary art shows exploring social relations, there was a participatory work: a bamboo structure by the Slow Art Collective which is threaded with colourful yarn, where viewers could add their own thread.
Through these paths of protest, anger and hope, Craftivism emerged as a vivid, comprehensive reminder of where we are at (and we are not) as a society. As the multitude of works and preoccupations suggest, social change comes in many guises: taken collectively, the works offered the quiet value of arresting conciousness.
Craftivism was shown at Shepparton Art Museum from 24 November 2018 to 17 February 2019.
The exhibition is currently on display at Warrnambool Art Gallery from 4 March to 5 May 2019. Craftivism will then tour nationally.
Originally published in the April/May 2019 edition of Art Guide Australia, and at Art Guide Australia online.